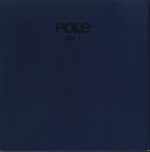 format: cd/double 12inch/digital
release date: 1998 (Kiff SM / Pis)

Tracklisting:
1 Modul (4:37)
2 Fragen (6:47)
3 Kirschenessen (5:21)
4 Lachen (7:31)
5 Berlin (4:42)
6 Tanzen (5:51)
7 Fremd (5:27)
8 Paula (6:16)
9 Fliegen (4:46)
originally released on Kiff SM, 1998
album information 1998:
Until now the name Pole was known only to a small, but attentive public as a trademark for high quality craft. As mastering engineer and vinyl-cutter Stefan Betkes pseudonym tadorns he runout grooves of countless House – and Techno masterpieces which were here given the the specific sound of vinyl.
Two singles later (one on DIN, the other on Kiff SM) under the same name with Pole is the hope connected, to lead electronic music and especially techno out of the dead end and to preserve them with new impulses as capable of surviving species. Pole´s music which especially in England caused a stir, can nevertheless only be categorized with great difficulty.
Pole are first and foremost crackles. The always present crackles from a defective 4 Pole-Waldorf Filter. This Filter isn´t only the name but also rhythmic scaffold. The interferences which were created by chance from the filter,while they only seem to follow a linear pattern while they always make the music non predictable and form together with the basslines the base around which in dub-manner short melodic parts are
arranged. Though this melodies are economically used a very dense, unobtrusive sound is created which leaves a lot of space for associations.
One of them might of course be the connection to Berlin. But the parallels which exist between Pole and other Berlin artists such as the use of dub-elements are mainly coincidental.
On the one hand Pole´s emergence goes back to his former home in Cologne and acquired only the finishing touches in Berlin and on the other hand Pole is less the result of a longstanding experience in the contemporary techno scene as is the case with many of the other Berlin artists but more a product of Jazz, Drum and Bass; Avantgarde and Dub. Despite the differences in Pole´s background there is a consistency in the aesthetic of interferences which moulds the debut album- A deep and warm bass which fills the songs with life and opens up room for visual associating like laughing (Lachen), flying (Fliegen) and eating cherries (Kirschen essen).